Pure Vanilla Hand Sanitiser
2-in-1 formula protects & locks in moisture

60ml
The Natural Hand Sanitizer contains 70% naturally derived alcohol to kill 99.9% of germs and bacteria.
It is perfectly balanced with a blend of New Zealand native Kawakawa Leaf Oil, Aloe Vera, natural Guar Gum and Vitamin E to soothe skin and replenish moisture levels. 
It is heavenly scented with Pure Vanilla, which lingers long after application. A sensory treat and gentle for sensitive skin.   

New Zealand Kawakawa Leaf Oil
A New Zealand native plant, the leaf's oil has anti-inflammatory properties that help heal and hydrate the skin, providing relief for skin conditions such as Dermatitis and Psoriasis.

Aloe Vera
Aloe Vera is rich in antioxidants and natural anti-inflammatory properties. It is soothing and moisturising for soft, smooth skin.

Guar Gum
A plant-based emollient that moisturises the skin, leaving hands feeling soft and nourished.

Vitamin E
Like Aloe and Kawakawa Leaf Oil, Vitamin E contains antioxidants, anti-inflammatory and anti-ageing properties.,

Pure Vanilla
Vanilla is an excellent source of B vitamins like Niacin, Thiamin, Vitamin B6 and Pantothenic Acid, which play an important role in the maintenance of healthy skin. Vanilla is rich in antioxidants, which help prevent and even reverse skin damage caused by free radicals.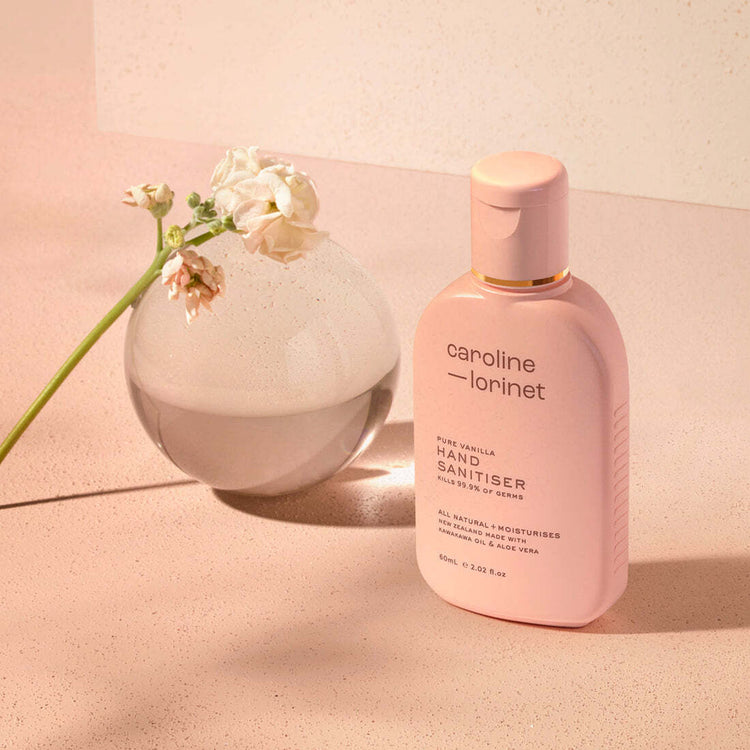 Product Ingredients
Ingredients to protect and moisturise
Alcohol (70% Natural source alcohol w/w) New Zealand Kawakawa Leaf Oil, Aloe Vera, Guar Gum, Vitamin E, Pure Vanilla.
100% Natural Fragrance and Preservatives
Nasties not included
Only natural and safe ingredients, and proudly
Non-Toxic
GMO Free
Cruelty Free
PEG Free
Sulfate Free
Mineral Oil Free
Petrolatum Free
Propylene Glycol Free
Paraben Free
Phenoxyethanol Free
Silicone Free
Volatile Alcohol Free
No Artificial Fragrances
No Artificial Colours